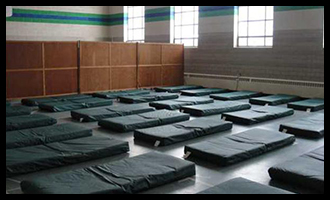 Emergency.la.gov – Real-time emergency information
Public Shelter Information
Shelters are operated by trained individuals and ensure that the safety, security, and basic needs of its residents are met.

A. What to bring to a shelter

Change of clothing, blanket and pillow for each family member
Your disaster supply kit, including food, medications, comfort items and special items for infant or elderly family members.

B. What NOT to bring

There are no weapons, drugs, alcohol or pets (service animals excluded) allowed in shelters.
Shelter-In-Place Information
"Sheltering-in-place" is a precaution aimed at keeping citizens safe while remaining indoors. This is not the same
thing as evacuating to a shelter and not recommended
for hurricanes. When a "shelter-in-place" order is given by either local or state government, citizens
within the affected area should take the following protective measures:

Go indoors and close all windows and doors.
Turn off all sources of outside air (i.e. air conditioners and ventilation fans/ducts).
Remain indoors until notified that it is safe to move outdoors.
Stay tuned to your local radio/television station to receive official notices.
Limit telephone usage for emergency calls only. This is to prevent the telephone lines from being overloaded with non-emergency
calls.

IF YOU MUST BE OUTDOORS

Protect your breathing by covering your mouth and nose with a cloth or handkerchief.

IF YOU ARE IN YOUR VEHICLE AND CANNOT GET TO A SAFE BUILDING:

Pull over to the side of the road.
Turn off the engine and close windows and vents.
Listen to the radio regularly for updated advice, instructions and conditions.